How to Install an iTourTM Web App for iPad1 or iPad2
1. Start Safari on your iPad
2. Enter the provided URL in the location bar.
This will be something like "itouronline.com/mountainview/mobile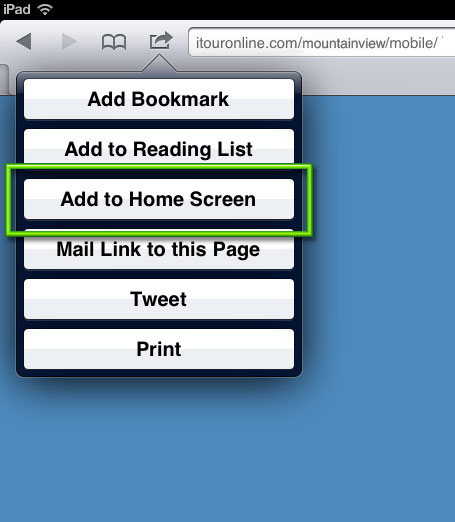 3. Touch the "Add Favorite" icon at the top. It's the box with the curved arrow
4. Select "Add to Home Screen" which is shown in the green box above.
5. Accept the name that comes up or change it to what you want.
then Click the blue "Add" Button
6. You will be returned to the iPad screen. You should see the icon that was just added. Just tap it to start your icon like a regular App.
To uninstall an iTour Web App
1. Touch your finger to the icon and hold it there for a few seconds.

2. All the icons on your ipad will show an X in the top left corner. Tap the X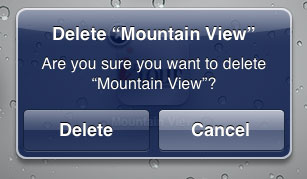 3. Select "Delete" from the dialog the pops up, and the app will be removed from your iPad.
4. Press the home button to switch off the edit icons mode on your ipad.